Cecilia Palu's work experience at Hawkins
On this page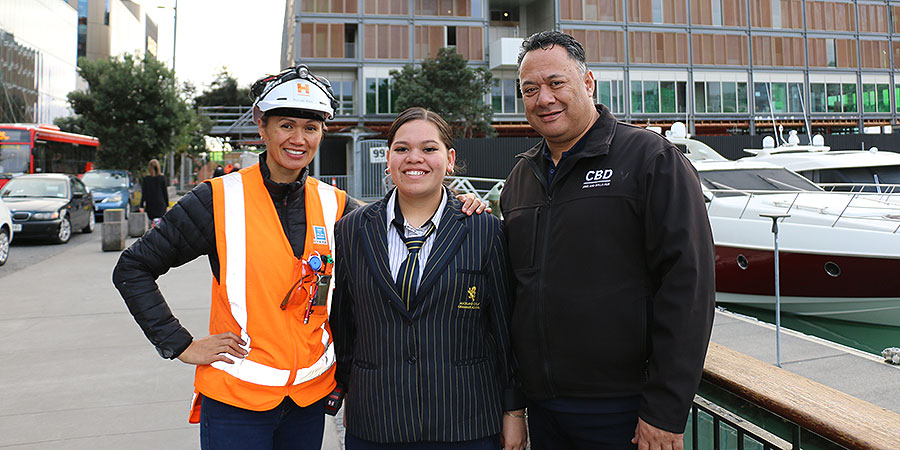 When Cecilia Palu's parents saw how determined she was to forge a career in the construction industry, they gave her their full support.
While most of Cecilia's friends in Year 13 at Auckland Girls' Grammar School are planning on going to university next year, Cecilia is focussed on following her own path of working towards a carpentry apprenticeship.
Cecilia, 17, is enrolled with the MIT Trades Academy, which allows her to study at school for three days a week, while training in carpentry at the Academy for the other two.
"My parents were keen for me to go to university, but they finally agreed that I could work towards an apprenticeship. They can see that I'm trying really hard, and they're happy with that," Cecilia says.
Cecilia managed to secure two weeks of paid work experience on a construction site during the April school holidays, thanks to her school's Gateway Coordinator and the CBD Jobs and Skills Hub.
The CBD Jobs and Skills Hub is a collaboration between the Sector Workforce Engagement Programme (SWEP), Auckland Tourism, Events and Economic Development, employers and other central and local government agencies.
The Hub supports pathways to sustainable employment in Auckland's city centre, working directly with employers in priority sectors to provide a no-cost recruitment service, and to deliver the wrap-around training and support needed to upskill people.
"Susanna Sabbage, Gateway Co-ordinator for Auckland Girls had been in touch needing assistance for Cecilia to get work experience during school holidays. We are only too happy to help keen students who want a career in construction and do this through our School Engagement programme, which is designed to make the transition into the sector easier for students," CBD Jobs and Skills Hub Operations Manager Fritz Purcell says.
"When I met with Cecilia we talked through what kind of career she wanted to pursue in the construction sector and then matched her to a paid work experience role through a labour hire company called Stomp, working with Hawkins on the Park Hyatt hotel site in Wynyard Quarter."
Hawkins is New Zealand's leading construction business, and is part of the Downer family. Hawkins supports Maori and Pasifika men and women entering the construction industry through its Maori and Pasifika Mentoring Programme. Since the programme began in February 2014, six people have completed their apprenticeships and graduated from the programme, a further 25 are completing apprenticeships with Hawkins' subcontractors and there is a pipeline of trainees.
Hawkins has been working with the CBD Jobs and Skills Hub since it launched in March 2017.
Hawkins Foreman Roimata Maihi welcomed Cecilia to the site and mentored her through her work experience.
"Construction is all about teamwork," Roimata says. "You've got to be committed. There's a lot of planning ahead involved. We know what work we're planning to do each day and the people we need to do it. It's really important that people are committed. Cecilia has the commitment and she is good at getting along with others. As a wahine (woman) on site, you have to be yourself, but you've got to get stuck in and do the mahi (work) with the team.
"It's always great to see another wahine on site – we just need more of them! It's a great industry to work in because there are so many pathways – trades' apprenticeships, quantity surveying, digital designing, engineering, construction management, crane and machine operators, health and safety - it's all about people and it also pays well," Roimata says.
Cecilia says her two weeks' work experience gave her a great insight into what life is like on a construction site.
"It wasn't as hard as I thought it would be," she says. "Being able to talk to people and being able to speak up and ask for help are the most important things."
Susanna Sabbage says the CBD Jobs and Skills Hub has been hugely helpful.
"The Hub really helps to bridge the gap between schools and industry because without knowing who to talk to, it's difficult to connect with employers and find out what opportunities are available for students," she says.
"Fritz gave both Cecilia and I a great overview of Auckland's construction and infrastructure sector and went over and above to ensure Cecilia was settled into her work experience and had everything she needed to get started."
The CBD Jobs and Skills Hub came along to Cecilia's induction, equipping her with a hi-vis vest and helmet and also helped her get the tools she needed for the job including a hammer, apron, punch and measuring tape.
"It's great to encourage more girls into the trades because there is such a broad range of opportunities open to them. Cecilia has a fantastic attitude and incredible dedication. She will be seen as a great role model for other girls to follow suit," Susanna says.